Chiswick
Looking for Chiswick London Tree Surgeons? Then Red Squirrel Tree Surgery may well be for you. Having worked in arboriculture for many years, there's not any type of tree surgery that our professionals aren't familiar with. We are able to work on projects both big and small in Chiswick. All work is carried out to British standards (BS3998) and all health and safety standards are adhered to completely. The team have attracted glowing reviews from business and domestic customers alike.  Over the years and are able to offer an affordable service which makes no compromises when it comes to quality and honesty.
Red Squirrel has become a true word-of-mouth service in Chiswick. We have many new customers approaching the company after receiving recommendations from friends, associates and family members. Why not get in touch today if you're looking for tree surgery in Chiswick, Hammersmith, Fulham, Battersea, or Chelsea? We also hold a £5 million public liability licence insurance policy – though safety standards are nothing less than robust. Call Red Squirrel today for help with any tree-related matter.

Tree Surgeons in Chiswick
Are looking for a professional arborist in Chiswick, W4? Then you should be aware that Red Squirrel Tree Surgery is just around the corner.
Based in Shepherds bush, our team of qualified and insured tree surgeons are fully equipped and experienced.  This way we can tackle all types of tree work in West London and its surrounding areas.
Stump Grinding in Chiswick
Do you have a tree stump that you cant get rid of in Chiswick? Red Squirrel Tree Surgery can remove all tree stumps in W4. Equipped with the new Carlton pedestrian stump grinder, we will turn any tree stump into mulch by grinding it down with the stump grinders special carbine tipped teeth. We will then back fill the hole where the stump was. This is with rich in nutrients mulch that can be spread around your gardens flower beds in Chiswick.

Chiswick London Tree Surgeons

Chiswick London Tree Surgeons
Pruning trees in Chiswick is a day to day job for Red Squirrel Tree Surgery, we have a few great examples of trees that we have pruned in W4, each tree will be individually surveyed and pruned accordingly. This may be to remove any weak, dead, crossing or suppressed branches. You can rely on us to ensure that your trees remain healthy in Chiswick.
Whether your trees bear fruit, flowers or just leaves and seeds.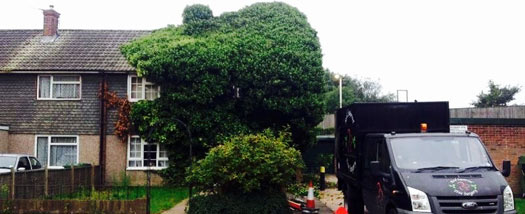 Ivy Removal in Chiswick
Ivy can cause very serious damage to any buildings or structures in Chiswick if it is not maintained correctly. You might love the way a tree looks with ivy gracefully wrapped around the trunk. However it can result in a number of problems often resulting in the death of the tree. The ivy itself is not the issue. But it creates a moist environment in Chiswick against the bark of the tree, which can then attract harmful insects.