Richmond
Does your hedge has become overgrow and is dominating your garden in Richmond or just looks untidy? Then why not call the experts at Red Squirrels.  Richmond  London Tree Surgeons are a team of fully qualified arborists that provide a full range of services. These include hedge trimming, tree surgery, pruning, section felling, planting, stump grinding in the Richmond area.
We undertake hedge trimming and other services to homes and businesses in Richmond.  As well as North West, West and South-West London and are highly experienced in dealing with trimming of all types of hedges from English Yew to Privet, Leylandii etc.
All members of our team are highly experienced and fully qualified arborists to NPTC unit 30,31,36,38,39 and City and Guilds in arboriculture.
All Richmond London Tree Surgeons work is carried out to British standards (BS3998), so meeting all the needed health and safety regulations plus for your total peace of mind we have a policy of £5 million public liability insurance to cover any unfortunate incidence in Richmond.
We pride ourselves upon our excellent customer service. We will respond promptly to your call undertaking any work professionally and tidily. Therefore creating the minimum disruption for your household and your property in the Richmond area.

Tree Surgeons in Richmond
There are many tree surgeons in Richmond, SW14.  But we can assure you that none of them are as experienced as Red Squirrel Tree Surgery. Our Richmond, West London based team of expert tree surgeons are always keen to approach any arboricultural scenario. We can provide an outstanding tree surgery service to all of our customers at a fair price. All of our staff are trained and always respect the laws in health and safety. We can provide tree surgeons in Richmond for removing large trees from your back garden or pruning the wisteria on the front of your house. Just give us a call  on 02035090108 or use our contact us form to send us an email.
Stump Grinding in Richmond
Small, medium, large and massive, we will get rid of any sized tree stump in any location in Richmond, SW14. Just call the professionals and we will turn your tree stump into a pile of mulch.  We have ground out stumps all over Richmond and we have hundreds of great feedbacks on our website for everyone to view. Don't let that old stump get you down any more! Call the Red Squirrel Tree Surgeons for a free quotation for stump grinding.

Tree Removal and Tree Felling in Richmond
Arboriculture is the cultivation, management, and study of individual trees, shrubs, vines, and other perennial woody plants in Richmond. It is both a practice and a science. The science of arboriculture studies how these plants grow and respond to cultural practices and to their environment in Richmond. 
If you need this service why not use our team of qualified and insured tree surgeons that are based in SW19, not just because we are local but because we really know what we are doing and are trustworthy and reliable. We have felled 16 foot trees! While using all the required equipment so every branch and piece of timber is lowered to the ground in a controlled manner.

Tree Pruning in Richmond
If you have a tree in your garden that looks like that it may be getting a bit out of hand, now is the time to call Red Squirrel Tree Surgery. We cover Richmond, SW14 and pruning trees is one of our specialities. For example if you have a fruit tree, we know that in the Victorian times, in order for one to have a fruit baring tree, one used to say that one should be able to throw ones bowling hat through the middle of the tree.  In other words, fruit trees should always have a thinned crown to allow light onto new shoots. These are the shoots that produce fruit in the Richmond area.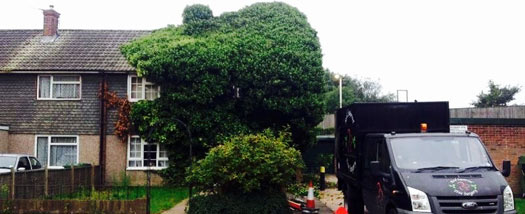 Ivy Removal in Richmond
You might love the way a tree looks with ivy gracefully wrapped around the trunk. But it can result in a number of problems in Richmond often resulting in the death of the tree. The ivy itself is not the issue, but it creates a moist environment against the bark of the tree. This can then attract harmful insects. The ivy coverage can also hide any developing problems that you may otherwise have noticed if the ivy was not there, such as minor tree decay and disease can then become a major issue because it is hidden from view in Richmond.