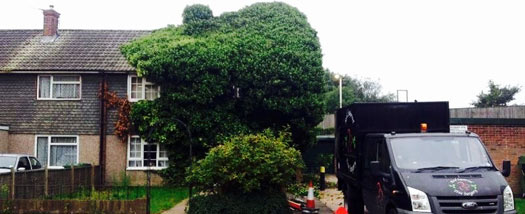 Ivy can cause major damage to structures if it is not maintained correctly, ivy should be reduced, trimmed or removed completely including the roots to maintain a controlled growth of a very fast growing and hardy climbing plant. 
Ivy, an evergreen climbing or ground-keeping plant, is a wonderful addition to any garden and looks very attractive. It is an incredibly versatile plant, which can be used as rich ground cover to stop soil erosion, to hide unsightly walls, fences or other garden structures.  Ivy is also excellent to create a topiary sculpture.
However, once established, ivy stems spread rapidly and can become highly invasive to other plants and tree. As ivy climbs, it may look 'fairy tale' romantic but when left unattended, ivy can creep, crawl and spread its way around your garden, taking over everything in its path.