Putney
Do you need professional Putney London Tree Surgeons? If you are looking for one in West London, including Putney, have a look at Red Squirrel Tree Surgery. We operate in and around West London, and covering Putney as well as Wimbledon, Battersea, Wandsworth, Chelsea, Kensington, Hampstead, Barnes.  
We also cover Richmond, Mortlake, Kew, Hammersmith, Chiswick, Ealing, Acton, W4, and W5. Our company are staffed by a professional team of experienced and expert tree surgeons. We think that we've seen most tree problems in Putney, and not very much about trees surprises us anymore!  Contact us for your Tree Surgery in Putney needs.
Our team do all kinds of tree surgery in Putney. If a tree needs cutting down, and the space around it is limited by other trees or house, we will usually use section felling, where we carefully cut down a tree in sections in Putney. First of all if there is space, we can do straight felling. Putney London Tree Surgeons also do reducing and pruning to tidy up trees.
We can provide a stump grinding service if you have an unsightly tree stump that needs to be removed. Therefore whatever the work, we will do it in a way that minimises damage to the tree and surroundings. Most of all our work is done in accordance with British Standards guidelines in the Putney area.

Tree Surgeons in Putney
We are often asked what a tree surgeon does and whether or not we are doctors. Tree surgeons or arborists, to give us our technical name, undertake many services in Putney. But essentially we are involved in the care and maintenance of trees.
Do you have problems with trees in Putney ? If you need a tree cutting down, or pruning, it's best to hire tree cutting specialists, as it can be a dangerous and tricky job. Are you looking for an qualified and experienced tree surgeon in Putney? Red Squirrel Tree Surgery can therefore cater for all your requirements.
Based in Shepherds bush, our team of qualified, experienced and fully insured tree surgeons are fully equipped and qualified to tackle any type of tree work in South and West London including Tree Surgeons in Putney and its surrounding areas.
Stump Grinding in Putney
A stump grinder or stump cutter is a power tool or equipment attachment that removes tree stumps by means of a rotating cutting disk that chips away the wood. Stump grinders can be the size of a lawn mower or as large as a truck if you need a stump removing in your garden in Putney.  We can carry out this work safely with all the knowledge required for the work to be done securely in Putney. We use all up to date grinding equipment by reducing the stump down, then back filling the hole where the stump was.  Most people do not realise that nutrients from stump mulch can be spread around your gardens flower beds in Putney to promote healthy plants.

Tree Removal and Tree Felling in Putney
It is important that you plan tree felling in Putney very carefully. Trees must be felled safely in Putney and in the direction that you want them to fall. Well-planned felling also makes it easier to continue with your planned work. The factor that first and foremost affects tree felling is whether there are major obstacles in the area (overhead lines, roads and buildings). 
Red Squirrel Tree Surgery provide straight or section felling in SW15, Putney as well as Tree Surgeons in Putney, if you need this service you can be assured that we will carry out the work safely, with the knowledge that the work is carried out correctly and according to healthy and safety in Putney. Therefore you can be assured that we will carry out the work exactly as per your requirements.   

Tree Pruning in Putney
Pruning is a horticultural and silvicultural practice involving the selective removal of parts of a plant, such as branches, buds, or roots in Putney. Reasons to prune plants include deadwood removal, shaping (by controlling or directing growth), improving or maintaining health, reducing risk from falling branches.  Each tree will be uniquely surveyed and pruned accordingly, In nature, meteorological conditions such as wind, ice and snow, and salinity can cause plants to self-prune. This natural shedding is called abscission.  But tree also need a little help from us humans to stay healthy, disease free and in shape in Putney.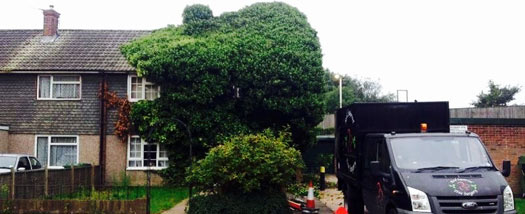 Ivy Removal in Putney
Ivy can be a beautiful addition to any garden however, once established, ivy stems spread rapidly.  It can become highly invasive to other plants and tree. As ivy climbs in Putney, it may look 'fairy tale' romantic.  But when left unattended, ivy can creep, crawl and spread its way around your garden in Putney, taking over everything in its path.  You can really be aggressive when trimming and pruning Ivy as it will replenish itself in time for the summer. When you will want the garden to look as attractive as possible.  Ivy can cause major damage to structures if it is not maintained correctly. Therefore ivy should be reduced, trimmed or removed in the Putney area.