Pruning
Many people search for tree pruning in London because they want their trees to be neat and tidy, but this service is also just as important for health and safety reasons.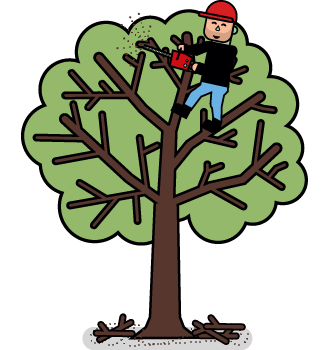 By removing dead or diseased branches, it can help the tree become healthy again, as well as make sure that these branches don't fall and damage surrounding areas. London is a built-up area, so your trees might be confined to quite a small space. Sometimes, overgrown branches can block essential sunlight for other nearby trees and shrubs, hindering their growth.
Red Squirrel Tree Surgery provides the best tree pruning service in London. We rely on the trusted ABC cut method, and always make sure we never cause any unnecessary damage to healthy trees. All pruning is approached on a tree-by-tree basis, taking into account the individual shape, age and species of the tree for the very best results.
All Tree Pruning in London
We can carry out tree pruning in all areas of London, Greater London, Watford and Hertfordshire. Find out more about the areas we cover by clicking on the links below:
Tree pruning in Acton
Tree pruning in Amersham
Tree pruning in Barnes
Tree pruning in Battersea
Tree pruning in Camden
Tree pruning in Chelsea
Tree pruning in Chiswick
Tree pruning in Ealing
Tree pruning in Fulham
Tree pruning in Hammersmith
Tree pruning in Hampstead
Tree pruning in Harrow
Tree pruning in Hounslow
Tree pruning in Hillingdon
Tree pruning in Kensington
Tree pruning in Kew
Tree pruning in Kingston upon Thames
Tree pruning in Pinner
Tree pruning in Putney
Tree pruning in Richmond
Tree pruning in Rickmansworth
Tree pruning in Ruislip
Tree pruning in Slough
Tree pruning in South West London
Tree pruning in Twickenham
Tree pruning in Uxbridge
Tree pruning in Wandsworth
Tree pruning in Watford
Tree pruning in Wembley
Tree pruning in Wimbledon