Uxbridge
You should not undertake the maintenance of trees without experience from Uxbridge London Tree Surgeons . The correct training is needed for all tree work. Jobs such as felling can be very dangerous and identifying and treating disease in a tree is a job for a qualified expert. If the trees at your propriety or business premises in Uxbridge need work then please contact us. The team at Red Squirrel Tree Surgery are there for your Tree Surgery in Uxbridge services. 
When you are looking for a experienced tree surgery company in Uxbridge, look no further than Red Squirrel Tree Surgery.   We provide all  types of tree care services to private and commercial clients throughout UB10. With over 12 years' experience in arboriculture work we have the tree care expertise needed.  We have the right experience and insurance needed to provide a first class tree surgery service. Whether it is tree pruning works, crown reduction, tree planting works or tree lighting works Red Squirrel are guaranteed to be best suited to meet your needs.
As a result of the team's ability to deliver a first class service we always have top feedback from its clients. We believe that our customers deserve the best service possible at the most reasonable prices. This is why Red Squirrel keep prices as reasonable and honest as possible. 
Call Uxbridge London Tree Surgeons on 0203 509 0108, email us at info@redsquirrelts.co.uk or complete our online form.

Tree Surgeons in Uxbridge
Looking for an experienced, qualified and trustworthy tree surgeon in UB10? Then look no further than Red Squirrel Tree Surgery for all your arboriculture needs.
Based in London, our team of fully experienced, insured and qualified tree surgeons are here to help. We are able to undertake every imaginable type of tree arboricultural work in South London and Uxbridge.
Stump Grinding in Uxbridge
Tree stumps in your garden can be ugly and hard to know how to deal with when they take up space.  Red Squirrel can remove a tree stump in and around the UB10 area.
We are armed with the latest model stump grinder, with which we will totally remove any tree stump by grinding it out with the stump grinders special tipped teeth.  When the work is done we back fill the hole where the stump once was, using nutrients mulch. This can then be scattered around your garden borders or flower beds.  That space in your garden in Uxbridge where the stump was will be transformed and look the way you always wanted!

Tree Removal and Tree Felling in Uxbridge
When you contact us we can provide a free quotation for any tree surgery works within an hour of you contacting us. You will then be booked in at your convenience for your tree lighting works, tree felling, tree planting, hedge trimming or crown reducing in the UB10 area.  You are safe in the knowledge that we also will deal with all of the communicating needed with local authorities. This is free of charge for your piece of mind.  Whatever arboriculture work is required we will use the correct safe rigging and lowering rope kit.  
Therefore you can be sure that we will carry out the work according to British standards.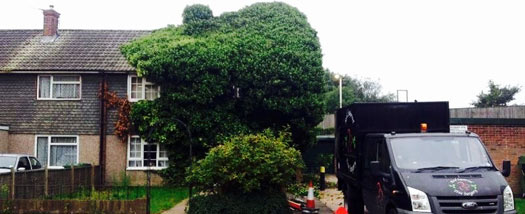 Ivy Removal in Uxbridge
 Ivy can be a lovely addition to any garden however, once established, ivy spreads fast.  It can become very invasive to other plants and trees. As ivy climbs in Uxbridge, it may look 'fairy tale' romantic.  But when left unattended, ivy can creep, crawl and spread around your garden in Uxbridge, taking over everything in its path.  You can be very hard when trimming and pruning Ivy as it will replace itself for the summer. Then the garden will look as attractive as possible.  Ivy can cause major damage to structures if not maintained correctly. Therefore ivy should be reduced, trimmed or removed in the Uxbridge area.