Ealing
When you're looking for experienced Ealing London Tree Surgeons, look no further than Red Squirrel Tree Surgery. We provide a wide range of tree care services to private commercial clients throughout London. With 12 years' experience in arboriculture we possess the tools, skills and expertise needed to provide a first class tree care service. From tree pruning to felling to planting, the team are best-placed to meet your Ealing London Tree Surgery needs.
Great Value for Money in Ealing and the London area.
Red Squirrel Tree Surgery consistently gains top feedback from its clients in Ealing. This is a result of the team's ability to deliver a high-quality service that represents great value for money. We believe that our customers deserve the best service possible. However, we also believe that you shouldn't have to pay over the odds for it. This is why we strive to keep our prices as affordable as possible. To learn more about Red Squirrel or to discuss your needs with one of the friendly team contact us. Call 0203 509 0108, email us at info@redsquirrelts.co.uk or complete our online form.

Tree Surgeons in Ealing
Are you looking for an experienced tree surgeon in W5, Ealing and then look no further than Red Squirrel Tree Surgery for your needs.
Based in Shepherds bush, our team of experienced and fully insured aborists are fully equipped and qualified to tackle every aspect of tree work in West London and its surrounding areas Tree Surgeons Ealing.

Tree Removal and Tree Felling in Ealing
Red Squirrel Surgery can provide an estimate for works in Ealing within an hour of contacting us, you will then be booked in to remove or fell any tree that is causing a problem in W5, Ealing.  We also will handle all of the liaising with local authorities that you require free of charge.  Even if the tree is straight felled from the ground or section felled using lowering and rigging equipment, you can be assured that we will carry out the work exactly as per your quotation in the Ealing area. 

Tree Pruning in Ealing
Whatever type of tree that you require pruning in Ealing this is a day to day job for Red Squirrel Tree Surgery, we have a few great examples of trees that we have pruned in W5, Ealing.  Every tree will be individually surveyed and pruned accordingly you can be assured that we remove any weak, dead, crossing or suppressed branches, this ensures that your trees remain healthy and look their best in Ealing.
We deal with all species of tress whether they bear fruit, flowers or just leaves and seeds.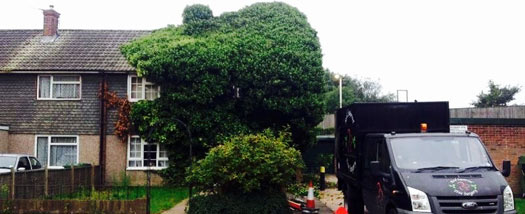 Ivy Removal in Ealing
If you have Ivy you want removed from your house then contact us.  We can give you all the advise needed to sort out this potential problem. We are Ealing London Tree Surgeons for all your Ivy removal needs.