Wimbledon
What do you do when you a need a tree removing from your garden in Wimbledon? Call competent tree Wimbledon London Tree Surgeons , of course. Well, if you're in Wimbledon, West London, have a look at us. We work in and around West London, covering Wimbledon, Putney, Battersea, Wandsworth, Chelsea, Kensington, Hampstead, Barnes, Richmond, Mortlake, Kew. We also cover Hammersmith, Chiswick, Ealing, Acton, W4, and W5. Our team of expert arboriculturalists are able to tackle most tree cutting jobs in the Wimbledon area.
If you need a tree removing in Wimbledon, and there is plenty of room, then straight felling is possible. However, in most of London, this won't be the case! Our Wimbledon London Tree Surgeons will therefore undertake section felling, where they remove the tree in sections. This makes sure that no damage is done to your property or that of your neighbours.
If you need the stump removing too, they can provide a stump grinding service as well, taking out the stump to below ground level, and back-filling the hole with a mixture of soil, woodchips and sawdust. This can be used as an excellent mulch for flower beds, so that it will blend into the surroundings of your property in Wimbledon.
"

Tree Surgeons in Wimbledon
Why not try your local tree surgeons in SW19, Wimbledon we have hundreds of positive reviews on check a trade and trust a trader. We always strive to leave a finished job with happy customers and healthy trees in Wimbledon. Our team of qualified experts can provide you with a quotation and carry out the work soon after and a convenient time. We always take into account wildlife and ecology, we are fully insured, fully qualified. Red Squirrel have over 16 years experience in the industry.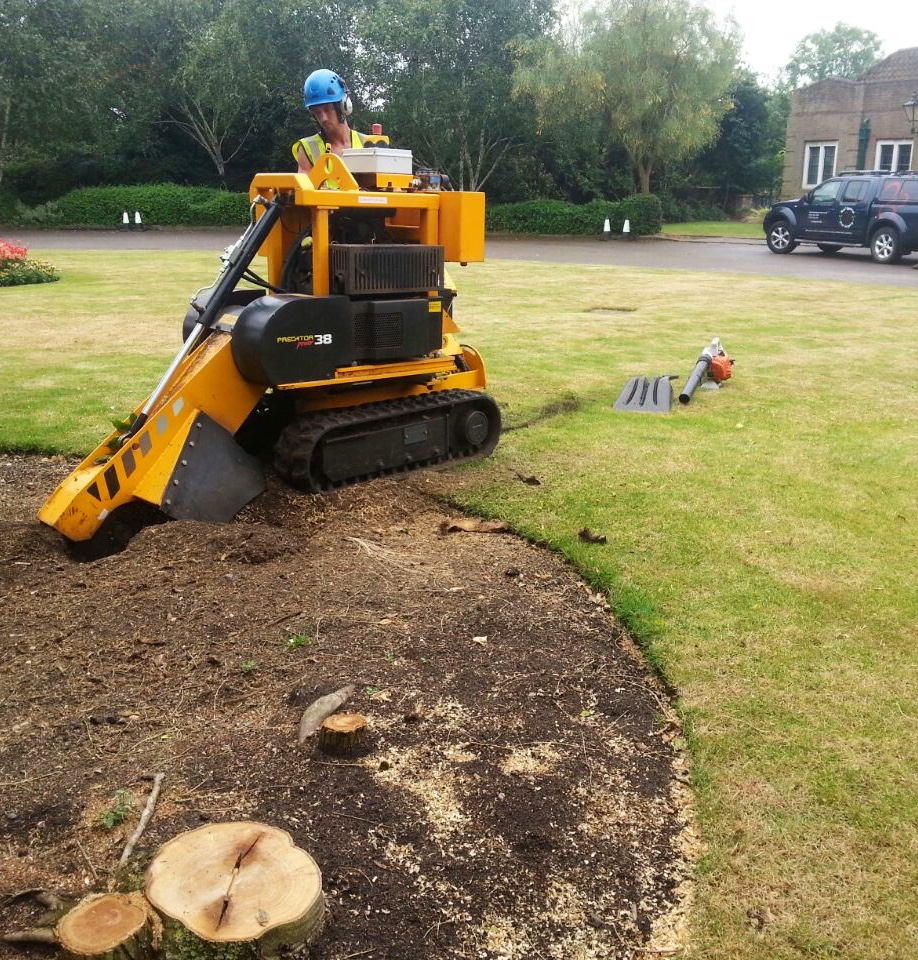 Stump Grinding in Wimbledon
We have stump busters in SW19, Wimbledon ready to grind out any stump in Wimbledon or its surrounding areas, we can turn any large or small tree stump into a pile of biodegradable mulch, this in turn can then be removed and disposed by Red Squirrel Tree Surgery or kept on site to be spread throughout your garden, as stump grinding mulch is an excellent fertiliser.

Tree Removal and Tree Felling in Wimbledon
Why not use our team of qualified and insured tree surgeons that are based in SW19, because we are local and we are the best at what we do. We have felled 16ft trees in Wimbledon using rigging equipment so every branch and piece of timber is lowered to the ground in a controlled manner and 0 damage is caused to your garden and surrounding structures.  Even though we have an immaculate record for large tree fells in Wimbledon, i.e 0 damage and 0 claims we still hold a £5m public liability insurance policy for your piece of mind.
Call Red Squirrel Tree Surgery today your Tree Surgeons in Wimbledon for your free quotation 02035090108 or use our contact us form to send us an email.

Tree Pruning in Wimbledon
Do you require a tree pruned in SW19? Do you have fruit trees? Or do they just flower in Wimbledon?
These are very important questions when it comes to pruning a tree, as one has to know what the best time of year is to prune certain trees. Any mistakes may cause the deterioration or even the complete loss of the tree. Red Squirrel Tree Surgery can provide you with all of the necessary information free of charge. This is before starting any work on your trees in Wimbledon.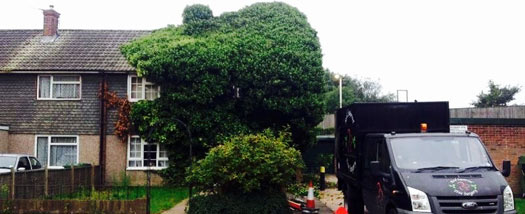 Ivy Removal in Wimbledon
Ivy is a great ground cover, and with the right attention, shrubs and ivy can live harmoniously together. However, there are things you must take into account such as making sure that ivy isn't left to run through the centre of plants, or the two will end up competing for space and important nutrients in the soil, in Wimbledon.  It is important to remember that Ivy needs trimming sometimes as much as three times a year.  Do you have Ivy that needs removing in the Wimbledon area?