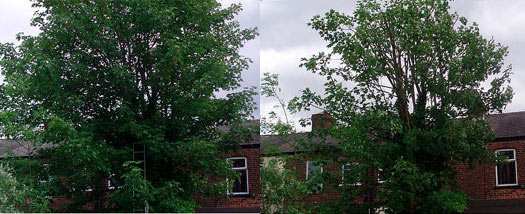 Each tree will be individually examined in relation to the shape, size, character, condition, site and species of tree. All work will be completed with care and respect for the tree. Each branch will be removed using the ABC cut method where risk of tearing is reduced.
All final cuts will be made at the branch collar, with the branch collar remaining intact. Under no circumstances will any flush cuts be made. All cuts will be made to the standards set out in the guidelines BS3998 (1989).
All large limbs will be lowered by ropes and slings to avoid damage to the tree and its surroundings. We will make sure all pieces fall to the ground safely. Dead, diseased or damaged branches will be pruned back to the corresponding branch collar. In the case of crossed rubbing branches, the branches will be analysed, pruned or removed accordingly whilst making sure the shape of the tree is left intact.
We Cover: Fulham, Ealing, Chelsea, Kingston Upon Thames, Fulham, Wembley, Epsom, Hounslow, Battersea, Richmond, Harrow, Wimbledon