Crown Reduction
A crown reduction is usually carried out to ensure your trees are kept in excellent condition.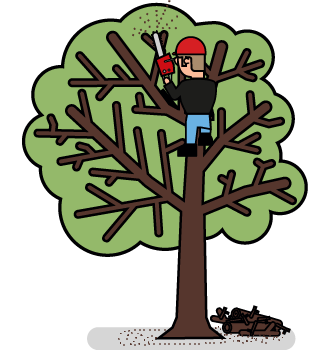 Not only does this service help them to look aesthetically-pleasing, but cutting back old branches also makes room for new growth. Sometimes, a crown reduction is necessary when a tree has grown too large for its permitted space and is encroaching into other areas, such as neighbouring gardens.
Crown reducing and shaping is also an important health and safety precaution. If a tree is particularly large, cutting back heavier branches will help to keep them more secure during storms. This is especially important in built-up areas, such as London, where a fallen tree can cause severe damage to its surroundings.
How do we carry out a crown reduction in London?
At Red Squirrel Tree Surgery, we always take our time with crown reductions and shapings. We carefully assess each trees' original shape, size, character and health, and only cut using the ABC cut method to reduce the risk of tearing.
If you're looking for a professional crown reduction service in London, Red Squirrel Tree Surgery is a reliable, affordable option. Click on the links below to explore our crown reduction services in your area:
If you're looking for a professional crown reduction service in London, Red Squirrel Tree Surgery is a reliable, affordable option. Click on the links below to explore our crown reduction services in your area:
Crown reduction in Acton
Crown reduction in Amersham
Crown reduction in Barnes
Crown reduction in Battersea
Crown reduction in Camden
Crown reduction in Chelsea
Crown reduction in Chiswick
Crown reduction in Ealing
Crown reduction in Fulham
Crown reduction in Hammersmith
Crown reduction in Hampstead
Crown reduction in Harrow
Crown reduction in Hounslow
Crown reduction in Hillingdon
Crown reduction in Kensington
Crown reduction in Kew
Crown reduction in Kingston upon Thames
Crown reduction in Pinner
Crown reduction in Putney
Crown reduction in Richmond
Crown reduction in Rickmansworth
Crown reduction in Ruislip
Crown reduction in Slough
Crown reduction in South West London
Crown reduction in Twickenham
Crown reduction in Uxbridge
Crown reduction in Wandsworth
Crown reduction in Watford
Crown reduction in Wembley
Crown reduction in Wimbledon