Tree Stump Removal and Grinding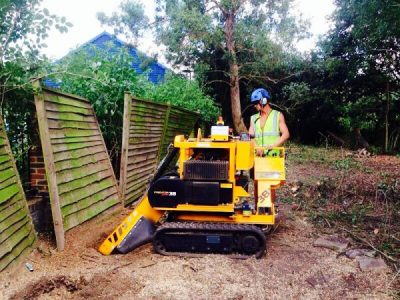 Stump removal involves complete removal of the stump and any lateral roots belonging to the tree. This is achieved either using hand tools or a machine (stump grinder).
Stump grinding involves the removal of stump to a specified depth, generally between 150mm and 300mm. Upon completion of stump removal, the remaining hole will be back-filled with soil or grinding waste to leave a level minimal trace of the work.  The complete removal of a tree trunk is a job for and only for a stump grinder, this is a machine with carbine tipped teeth attached to a large rotating wheel with the teeth attached at different angles at sequence all around the wheel. This creates a bread knife affect.
The spinning wheel is used to scrape 2mm on every slice it makes, this machine is operated by one man, once the stump has turned into mulch and a hole has replaced the tree stump, the hole is then filled back in with the mulch.
Our Stump grinding service is provided throughout London, i.e Chiswick, Ealing, Acton, Shepherds bush, Greenford, Perivale, Merton, Southfields, Chelsea, Richmond, Willesdon, Wimbledon, Battersea, Barnes, Kew, Putney Mortlake, Ham, Hammersmith, Twickenham, Kingston, Hampstead, Fulham, Kensington etc… 
We Cover other areas such as: Kingston Upon Thames, Wembley, Epsom, Hounslow, Battersea, Richmond, Harrow,